Proven superfoods for clean energy, immunity, and a healthy glow
Organic Cordyceps Mushrooms

Sourced from California, USA
Adaptogenic mushrooms grown in southern California for natural, sustained energy and stress maintenance

Organic Raw Cacao

Sourced from Los Rios, Ecuador
Coined the bliss molecule, cacao contains anandamide, responsible for feelings of euphoria and an improved mood

African Mango Seed

Sourced from Ashanti, Ghana
A natural fat-fighter, known to lower appetite and boost the breakdown of fats

Organic Collagen Peptides

Sourced from Rio Grande do Sul, Brazil
A complete protein dubbed the "fountain of youth" by reducing visible wrinkles and promoting longer, stronger nails and hair

Organic Agave Fiber

Sourced from Guadelajara, Mexico
A super-fiber promoting digestive health by serving as a prebiotic and increasing the body's absorption of calcium

Chicory Root

Sourced from Gujarat, India
Rich source of antioxidants and beta-carotene, supporting the immune system

Green Coffee Bean

Sourced from Pereira, Columbia
Contains chlorogenic acids- not found in regular coffee - to help reduce the absorption of carbs and fat

Customer Reviews
10/27/2020
Allison M.
United States
The energy I love
Amazingly delicious!! I love chocolate and love drinks that provide energy. I was sold after my first cup! The energy I felt and alertness was better than coffee. Drinking coffee every morning on an empty stomach can can be harsh and the ingredients in Bellatte happen to be the healthier choice. Placing another order right now :)
10/27/2020
Melanie W.
United States
Just love it
I'm new mom and doing my best to avoid caffeine. I love coffee, so I wasn't sure if Bellatte could suffice. The verdict? It is amazing!!! I actually crave it and don't feel the acid I get from coffee. The chocolate twist to it is my favorite, which keeps me craving it :). The much needed energy it gives me feels natural and ongoing. I never feel guilty about having more than one cup. Hoping to see a monthly subscription soon!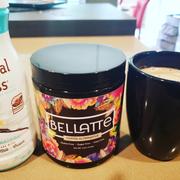 JS
10/12/2020
Joanne S.
United States
Yummy!
Bellette has a mellow mocha taste. I love that it isn't sweetened. So many drinks like this are too sweet. Its perfect on its own for someone who does keto or whole30 and is sensitive to sweet and can be sweetened to taste for those that need a little extra. I add frothed heavy cream to mine and its perfect.
Hi Joanne, Thank you for the 5-star review! We're glad you're enjoying the mellow mocha flavor. Hope to see you again soon!
NW
08/08/2020
Naketta W.
United States
Smooth and Delicious
Bellatte is my go drink in the mornings. I love the smooth and creamy texture, and it taste amazing!
08/08/2020
Michaela M.
United States
Fantastic!
I love Bellate! I have been looking for a superfood based product to replace my morning coffee/tea routine. Coffee dehydrates my and give me headaches. I had been reading about the benefits of cordyceps mushrooms and have heard of people using it to make a tea. When I ran into Bellatte and had a look at the ingredients I thought "jackpot". It's great cold or hot! On a side note - I suffer from atopic dermatitis/eczema so I have to be careful about what I put in my body. After using topical steroids my entire life (I'm over 30), I decided to swear off these harsh creams July of 2019. My body did not react well and went through a terrible withdrawal. My skin is so much better now! Although my skin certainly isn't perfect, I am healing. I'm a strong believer in natural remedies and patience. I'm sure the collagen peptides are contributing to my glow!